Dok mi se rođena baba žalila na otekle noge, skupe lekove i smešnu penziju – standardna spika – ja sam, priznajem, bacao pogled na Pink, isključenog tona. Išla neka telenovela. Kad pravo niotkud lik u seriji izbaci repliku koju su titlovali ovako: "Ma boli me kurac sa kim se drolja kara!"
Šok. Tu se, naravno, zainteresujem. Kada sam u trećem razredu osnovne cmizdrio što je Rosaura na pravdi Boga pucala u Kasandru, a stradao lafčina Randu (onaj Cigan što baca noževe u cirkusu), ni na kraj pameti mi nije bilo da će Karakas, Bogota i Meksiko Siti kroz petnaest dina da prave serije sa rečnikom Velje Ilića, a radnjom koja naginje na "Sopranove".
Dalje je u seriji neki matori baja u brkovima i bade mantilu gatao mladu ribu (ovu sa slike) da mu popuši, zvao je na gajbu, a ima i bazen sa hlorom i sve. Ona nije htela da mu skine đanu mada je on moćan lik, neki boss; onda je brka naterao ovu crnku da se uglobi u estetiku moldavske kurve, da stane na štiklače i obuče oskudne krpice – valjda mu to neki fetiš.
Tu rekoh sebi – ako je matori natakne u plićaku, oduzimam babi TV, bolje da čita Blic nego ovo da gleda. Ali, naravno, kurac od jebanja – ta riba zapali odatle, lik opasno popizdeo. U sledećoj sceni neki nesrećnik razapet kao Isus dok mu rebra uredno broje gangsteri – isti onakvi što Darku Šariću dovoze tanker kokaniđe do Sutomora. Uglavnom, već je u petoj epizodi jasno da će u stopedespetoj onaj što je prozivao ovu cupiku da je drolja na kraju istom tom droljom da se ženi, ali to je manje bitno.
Više je bitno što su novele, koje kolokvijalno zovemo španskim, znatno odmakle od ćorave Esmeralde i smaračke fore da jedna glumica igra bliznakinje, jednu dobru, a drugu zlu, a obe se nešto otimaju oko istog frajera. Prošla su vremena u kojima domaćice od Batuše do Žitišta vlaže na samu pojavu Fernanda Kolunge obnaženog torza, a posle reprize već znaju napamet tekst "dios mio, mia kasa es grande, Ignjacio mi amor".
Istanbul bahato, Bombaj iz drugog plana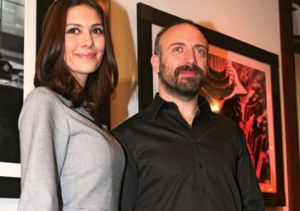 Nema, bato. Onur i Šeherezada su uplivali u malu baru punu krokodila, udarili neke standarde, vrhunska produkcija, kamera iz ruke i to. Priče su i dalje teški šit, ali bar glumci znaju tekst napamet, nema snimanja na bubicu kao Marisol i Ljovisna. Ko ne veruje koliko su Turci ozbiljni, neka pogleda film "Five minarets in New York", biće pozitivno iznenađen celom mašinerijom, od fotografije do glume. Uostalom, dok smo se mi petooktobrisali, pa kukali za Đinđićem pa za Kosovom pa za Mladićem (a svo to vreme kukali za Titom) – Turci su učetvorostručili standard. Karađorđe, jebem te u ustanak.
Poenta je da su naše cenjene majke, babe, tetke i brkate komšinice, zajedno sa istim takvim strinama diljem sveta, trenutno poprište borbe za milijarde. To je borba koja se više ne vodi samo rodoskrvnim vezama, taštinim spletkama i zajebanom zikom na kraju svake jebene epizode – sada su Latinoameri i Turci isukali bande, droge, nešto što liči na scenario, a izgleda da su uveli i funkciju režisera.
I dok ovi titani kipe od želje da Željko Mitrović otkupi njihova ostvarenja, u naše krajeve su tiho stigla i bombajska remekdela, sam talog Bolivuda, ono što ne bi gledala nijedna pristojna žena iz predgrađa Vizagapatnama. Kod Indijaca je fora što se oni ne uvijaju u oblande – svesni su da kenjaju govna, time se ponose i to prodaju ljudima koji hoće da gledaju govna. A takvih ima k'o govana, da prostite.
Ali obećavam da ću večno navijati za Indiju kada igra kriket protiv Pakistana ako Bolivud iz Srbije istisne Keri Bredšo i ostale tetra-urbane kamilje face. Jer poštenije je deklarisati se kao đubre, nego samo prekriti smrad skupocenim parfemom sa Menhetna.